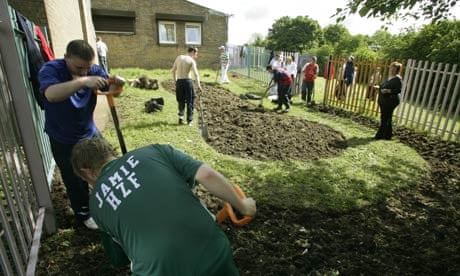 Many people who have retired from full time employment find renewed fulfillment by volunteering their time and skills to organisations working to improve their local communities. Everything from running a "meals on wheels" service to maintaining flower beds in your local shopping centre can be done by volunteers.
Retirement Worries
Are you approaching retirement and wondering how to fill your time? Or maybe you are retired already and starting to suffer from "cabin fever". Have you considered volunteering? There are lots of organisations that involve people like you providing services for others. Some of them are near you.
What do volunteers do?
Maybe you want to let people benefit from the specialist skills you developed over a long career in a profession. Many organisations need legal or financial advice, for example. Most have volunteer management committees for whom such administrative skills are vital.
Perhaps you could teach art or craft to people with a disability, or computer skills to people in your own age group
who have yet to discover the magic of internet communications. Assuming you are still able bodied, you might consider helping people much older than yourself with simple "DIY" tasks like basic plumbing, gardening or decorating.
Do you see retirement as an opportunity to do something completely different? You could decide that, after years of sitting behind a desk or computer screen, you would like to work outdoors. Your local "Tidy Towns" or "Britain in Bloom" group will welcome you as a part-time gardener.
These are just a few examples. The truth is that whatever you fancy doing, the chances are there's an organisation near you that needs it doing!
How much will I have to do?
None of these organisations will ask you to do more than you are willing to do. Most will provide support and training. What they will expect in return is a commitment to turn up at the agreed time, with the agreed frequency, and to provide as much notice as possible if you can't. Always remember that other people – often vulnerable people – are dependent upon you. So commitment is the important thing, not the amount of time you put in. Whether you've agreed to do 2 hours or 10, weekly or monthly, you must be prepared to stick to that.
What will I get out of it?
By its very nature, volunteering does not offer financial rewards. For retired people, it's much more about continuing to feel useful after the world of work has dispensed with your services. Volunteers, and the work they do, are highly thought of in their communities. You will meet new people with a shared interest and enjoy a reinvigorated social life. And although you won't be paid, you shouldn't be out of pocket as most organisations will refund expenses necessarily incurred whilst volunteering for them.
How do I find an organisation that involves volunteers?
Within the United Kingdom voluntary activities are co-ordinated by separate agencies covering each of England, Scotland, Wales and Northern Ireland. In the Republic of Ireland, Volunteer Centres Ireland maintains a database of organisations and helps with recruitment, selection and training.
It's a good idea to buy and read your local newspaper. Such publications often print stories about voluntary and community groups in their area. And the groups use such opportunities to appeal for new volunteers. Parish magazines also often list contact details of the voluntary groups working in and around their district.
What restrictions are there?
Anyone who plans to work with vulnerable people – and that includes the very young and the elderly – will need to undergo a DBS check (the new name for a criminal record check in the UK) or Garda vetting (RoI). All of the standard health and safety rules that apply to paid staff also apply to volunteers. You can expect to be provided with training to enable you to recognise, and deal with, any such risks that may be encountered.
Talking of risks, the biggest risk you are likely to face in retirement is boredom. So why not go for it? Volunteer today. You won't regret it. If you are already a volunteer please share your experience in the comments.