Throughout 2019 I intend to post updates on each of the authors I featured in my "A Date With . .. ." series in 2018. Dominique Kyle was my first date, back on January 11th last year. You can read the original interview here. She very kindly broke into a climbing holiday in Sicily to provide this update.
In the original interview, we talked about her series about a young woman stock car racer which had the protagonist, in the fifth book, investigating a paedophile gang in her Northern English home town. Dominique bemoaned the fact that, unlike her protagonist, no woman reached further than a semi-final of the World Championship since 1980. A good place, it seemed to me, to begin our recap by asking if that was still the case.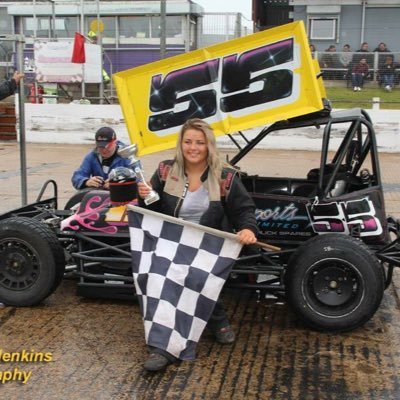 Apparently it is, because: "Courtney Finnikin qualified this year for the 2018 F2 Stocks world championships semi-final but withdrew."
The other subject that we discussed last year was what Dominique saw as the refusal to face up to and discuss the activities of grooming gangs. Throughout 2018 there were a number of successful prosecutions, government debates and reports, documentaries and drama documentaries. At the same time: "Sarah Champion (MP for Rotherham) has been working tirelessly for change on many issues to do with abuse, new identikit grooming gangs have come to light recently in other British towns, court cases continue, the Independent Inquiry into Child Sexual Abuse has continued and they launched the 'Truth Project' last year for abuse victims to put their accounts on record*, the UK Parliament signified its determination to end the sexual exploitation of children around the world by ratifying the Lanzarote Convention, national days to raise awareness of grooming gangs have been organised by County Councils – the list is endless.
This is a double-edged sword for an author. Two years ago, my book was cutting-edge, taking on a subject that no one wanted to tackle (and which publishers were wary of touching due to the perceived inherent 'racism' of the subject), and now it may come across as a tawdry 'jump on the bandwagon', and the whole subject may soon become tired and passé. This was why I didn't make it a one-subject book. By including the topic of organised abuse gangs in a series that is mostly about a girl trying to make it to the top in the Stock Car racing world means that it will always be part of a wider dialogue."
Nevertheless, Dominique has not "noticed a sudden rise in interest in my book at times of national interest in the subject. I changed keywords and search terms for the book while the 'Three Girls' drama was being advertised and when Sammy Woodhouse brought out her book. I've done promotions at key times. I've tweeted out on the subject using the hashtag that the County Councils use on their national awareness days. But I don't know if any of these have had any long-term effect on raising the profile of the novel.
I would like the book to reach either girls in danger of being groomed, or parents and carers who don't know anything about the issue, to raise awareness. To this end, my most successful ploy has been to make it known that I always make the book free on the first of every month. I put this in my author profile on Amazon, and now, even though some months I don't advertise or even tweet about it being free, I usually get around forty downloads of the book – so someone out there is finding it! It doesn't appear to lead to sales of the rest of the series, and I don't even know if the people downloading it are actually reading it, or even what demographic they are, as no reviews ever arrive on Amazon, but I am hoping that this means that the book is getting out to at least a few people who need to read it."
Meanwhile Dominique "has been getting the six-book series through an editor. A year on and the editor has only managed to complete five of them, as she likes to leave a couple of months between each to make sure she has substantially forgotten details of the story-line so she can come to each book fresh… However, I had a real piece of luck getting this editor, so I genuinely value her input.
Another author who I met through Goodreads recommended her own editor who is a medieval expert. I was dubious. Why would a woman who knows everything there is to know about some very ancient history, want to edit a series about modern car racing? But I approached her anyway and she fell on my series with every appearance of joy saying that she'd spotted it out there in the ether and had been wanting to take a look at it! Apparently, she's a secret petrol-head who for years was a marshal in the Formula Ford format (which used to feed into Grand Prix F1) and grew up driving cars around fields! And the author who recommended her to me had no idea about this… So, a marriage made in heaven, I'd say. She's so picky that I get emails saying, 'now that you've set the date of your first book at 2007 – you cannot use that model of VW as it did not get launched onto the market until Autumn 2009'. Doh! You get the picture…"
With no new writing having taken place "for nearly eighteen months", she "tried to get going again. But I struggled to work out what to write. My 'Not Quite Eden' series is quite unusual, both in its subject matter and by having an awkward anti-heroine as its main protagonist, so I didn't want to disappoint fans by my next book seeming too tame."
She "started three, but one (despite the promising subject matter following a girl who joins the FEMEN protest movement) turned out surprisingly bland; one I couldn't follow through on because it is about an anarchic young male wheelchair-user and I need my two wheelchair-using nephews co-operation on it and they've both been too busy; and third I originally wrote in the mid 1990's and it now seemed too old-fashioned! So by the end of this year, I still hadn't written anything that was close to being suitable to be released into the world.
Finally, I picked up my nineties 'first' novel and decided on a seriously radical re-write/edit, treating it as though I was adapting it for a TV serial and as though it wasn't anything to do with me. And suddenly, I had a breakthrough and I was flying. No one can get a word out of me now. Work doesn't get done. Friends don't get emails. My husband mutters 'tappity-tap' as he passes me on my laptop.
I have no idea if fans of my current series will like it. They may hate it simply because it is so different, and they hoped for more of the same and I may get blasted by 'disappointed' reviews. But I don't care.
One of the revelations I had when I picked up this old manuscript, was that over twenty years ago, when I was not much older than the featured protagonists, I was taking on the subject matter of domestic violence and 'coercive control' – a term that has only recently been coined and put into law. And I was amazed to find that the way I wrote about it then, when still in my early twenties, was as though the coercive control aspect in it was simply what was to be expected in male/female relationships. However, I am relieved to find that I had a campaign going on in the story line against the outright domestic violence side of it – which was still a substantially unrecognised/under-recorded phenomenon then. How times have changed! So I've left it set back in 1995, but I'm bringing out the message in a way that wouldn't have been understood by readers twenty-four years ago. And at last I'm thoroughly enjoying the whole process of writing again."
So it seems that Dominique is still as controversial as ever and determined to write about topical aspects of the relationships between men and women. I wish her every success.
Her Amazon book page is here
*There is another 'Truth Project', as I discovered when I googled the term. I have provided a link to the correct site. (FP)