In the run up to retirement I was repeatedly asked "What are you going to do with your time?" I was in no doubt, and told anyone who asked, that writing and painting were things I'd always wanted to do. Colleagues very kindly presented me with retirement present consisting of a selection of artist's materials – acrylic paints, pastels, an easel and a pad of art paper.
The first weeks in the new house were taken up with creating a garden in the small space at the rear, shopping for furniture, and carrying out various DIY tasks to provide features that the developer had not covered. My daily routine included an hour walking to the town centre to purchase a newspaper and returning. This took me past a new senior school still under construction. By January 2007 the school was open and offering a range of evening classes for adults.
I joined the art class, Freda the flower arranging group. By the time the 10 week course was over I felt I was not learning anything of value. A brief item in a local newspaper indicated that a local group of amateur artists, who met weekly, were looking for new members. I contacted the lady whose number was provided in the article. I became a member of the group and remained so for the next 5 years.
I also wanted to resume providing my services as a volunteer. In April, in Ireland, a "Clean up week" takes place, the idea being for volunteers to participate in the collection of litter and a general tidying up of the local environment. Freda and I joined in with this event and were thereby introduced to the "Tidy Towns" group. Evenings during the summer were then spent planting up, and maintaining, various containers and hanging baskets around the town.
Tidy Towns is a movement not unlike the "Britain in Bloom" initiative in UK. Groups of volunteers in every community work hard to improve the appearance of their town or village through the use of planting and the clearing of weeds and rubbish from all those untidy corners; streams, lakes or canals. An annual competition is held to award certificates to those communities deemed most successful in these activities.
As keen gardeners we enjoyed both the physical activity involved and the camaraderie (the "craic") that accompanied it. We would often end an evening of hard work with an hour of relaxation in one or other of several pubs. We continued as active members of the Tidy Towns group for the next 4 years.
Also that summer, 2007, a music festival, grandly entitled "The World Fleadh" (pronounced flaah), took place in the town. They appealed for volunteers with the offer of free entry into some of the concerts due to take place. I offered my time and was assigned the task of looking after the festival camp site. This proved to be not very onerous as there were only a handful of caravans, motor homes and tents.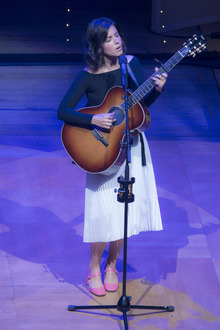 The atmosphere around the town during the festival was electric, with stalls selling street food, cheap jewellery and clothing lining one street. The music on offer majored on Irish traditional music but included some mainstream popular genres also. I remember watching Katie Melua, for example, as well as a Manchester based Irish folk Group I had first seen, and been very impressed by, in UK a few years before – Flook.
All of this activity took up the summer but autumn and winter loomed with little by way of daytime activity to occupy us. Then, in January, a newsletter was distributed around the town by a semi-state organisation involved in community development. They were responsible for several projects, all described in the leaflet, which also indicated that some of those projects needed volunteers. I contacted the organisation and, after a brief interview in which I pitched my background and skill set, I joined as a volunteer administration worker carrying out various tasks over 3 hours each Wednesday morning.
The organisation had applied for funding for a new project, this one concerned with helping elderly people with simple tasks in their homes. The application had been rejected because it included certain activities which were already within the remit of the national Health Service Executive. It was necessary to submit a revised application with that element removed. This meant completely re-working the financial justification and cash flow predictions. This task was assigned to me.
In the summer, with funding for the project approved, a steering group was established to kick start it, recruiting staff and finding premises. As a member of the target demographic I was co-opted to that committee as chairperson.