I have found out some interesting information about Francis Cosby's mother. In Lord Belmont's article about Stradbally Hall he includes the following:
JOHN COSBIE, who wedded Mabel, daughter of _____ Agard, of Foston, Nottinghamshire, and had two sons, viz. RICHARD, of Great Leake, and
FRANCIS COSBIE (1510-80), the patriarch of the family in Ireland, a man famed for personal courage, as well as civil and military talents.
Researching the Agards of Foston, I discovered that Mabel had a younger brother, Thomas, who was active in Ireland in the 1530s, some 15 years before the first evidence of Francis's presence there. Foston is about 25 miles from Francis's grandmother's manor at Great Leake but the Fostons owned, or had interests in, other properties in Staffordshire and Shropshire. Significantly wealthier, then, than the Cosby's of Great Leake.
I had been puzzling about what Francis might have been doing before his first recorded appearance in Ireland at age 35. It was easy to assume that he participated in Henry VIII's campaigns in France or Scotland in the early 1840s. But there appears to have been a lull in hostilities between England, Scotland and France from when Francis was in his late teens until about 1542. So opportunities for military service were limited. Except, of course, in Ireland, where Francis's uncle Thomas was enforcing the dissolution of the monasteries. Is it possible that Francis accompanied his uncle?
According to https://landedfamilies.blogspot.com/2013/07/54-agard-of-foston-hall.html, Thomas "was among a group of royal officials sent to Ireland to re-establish order and good government following the murder of the Archbishop of Dublin in 1532"
In 1540 he was granted the manor of Grangegorman, then a farm and orchard to the north of Dublin. The grant was made by the then newly created Dean and Chapter of Christ Church cathedral.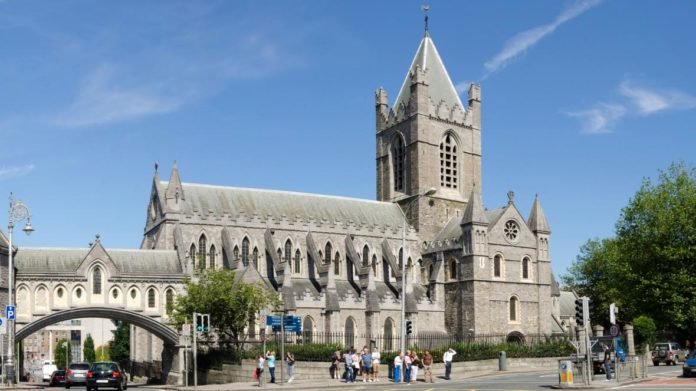 Thomas "held office as Controller of the Treasury, Treasurer of the Irish Mint and farmer of the customs of the Irish ports: offices which allowed plenty of scope for lining his pocket. His tenure of office coincided with the dissolution of the monasteries, and he appears to have invested some of the profits of office in buying or leasing Irish monastic lands. He was described as 'a sour and honest puritan inclined to Protestantism'". His son, also called Francis, became "a member of the Privy Council for Ireland, Receiver of Irish Revenues and Governor of Wexford."
In building a picture of Francis's life in Ireland, in addition to the well documented hostility with the O'Mores and their supporters, it seems impossible not to include interactions with his uncle and cousin, given the significance of their roles. Did he, perhaps, bring his young bride and child, believed to have been born in 1547, to reside in a house within the Grangegorman Demesne? Was it his uncle's leases on Irish monastic lands that facilitated his acquisition of the Franciscan Friary at Stradbally?
Grangegorman is now the home of Dublin's Technology University (formerly Dublin Istitute of Technology) where the majority of departments previously scattered across 39 different locations have been consolidated into a single site.