Home » Posts tagged 'David Davis'
Tag Archives:
David Davis
After listening to the village church bells ringing in the new millenium, I joined their team and began once again to learn the art.
From our arrival in East Yorkshire onwards I continued to help at elections. We got to know the Liberal parliamentary candidate in the area, an elderly woman who occupied a large house where she held the occasional garden party to raise funds.
Following boundary changes, a new candidate was selected for the newly created Howden and Haltemprice constituency. Diana Wallis was a successful solicitor and I recall attending several meetings at her home ahead of the 1997 general election and the 1999 European election. In 1997 she came second to David Davis, in 1999 she was one of several MEPs elected for the Yorkshire Region. She was re-elected to the European Parliament in 2004 and held several important roles there. She has since left the Liberal Democrats, becoming a founder member of the Yorkshire Party.
In 2001 and 2005 the Liberal Democrat candidate was a young man called Jon Neal and in 2001 he succeeded in reducing Davis's majority. A young PR manager from the local Independent Radio station stood against John Prescott in the Hull East constituency. Because this seat was regarded as safe for Labour, very little effort went into the Liberal Democrat's campaign.
Howden, however, was regarded as a Liberal Democrat "target" and that young woman worked hard for Jon's team. Her name? Jo Swinson. Last week she was elected leader of the Party, having secured election to Parliament in 2005 in her native Dunbartonshire. Jon Neal stood again in 2010 but has since moved to Suffolk where he works for the mental health charity Mind.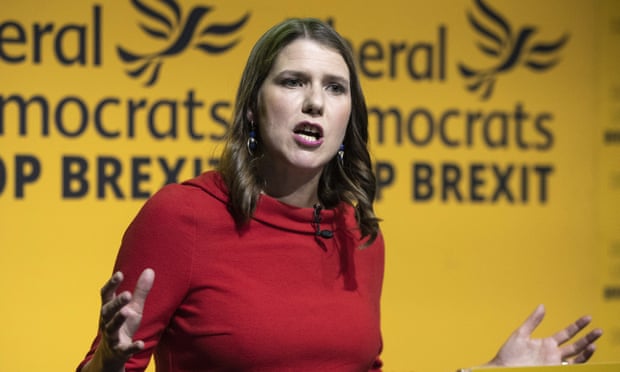 In the early noughties we took our summer holidays 3 times in Cornwall and contemplated moving there after retirement. The verdant countryside and spectacular coastline were very tempting. House prices less so – especially when compared to values in our part of Yorkshire. So, when, in 2004, we began seriously to consider our retirement options we rejected that idea.
We could, of course, stay where we were. However, we were a long way from Freda's relatives in Hereford, my mother who was now in Kent alongside my sister and her family, and our son in Ireland. We decided to investigate the possibility of moving to Ireland. We had our house valued and discovered that it had increased by over 150% since we purchased it in 1991. There had been a period when house prices were static through the early '90s so most of this increase had taken place over about 10 years.
During that time there had been many changes to housing finance. When we purchased we were paying 13% or 14% interest. As time went on, interest rates fell. The chancellor took advantage of the falling interest rates to reduce and, eventually, eliminate tax relief on mortgage interest.
Of course, falling interest rates meant that the returns on the investments backing the endowment policy were reduced and providers began issuing warnings that the final payout may not be sufficient to repay the outstanding capital. Borrowers were advised to maintain the level of payments as the amount required to cover interest reduced, so as to chip away at the outstanding capital.
We were able to do that and, by the time our 15 year endowment mortgage matured, in April 2006, we had a small cash surplus.
Blather is an old Scots word ultimately derived from an earlier Scandinavian word for chatter or prattle. I could have used any one of many words to denote the nonsense that is still being uttered by British politicians who want the UK to leave the EU. I was tempted to use a crude reference to bovine excrement or an equally unsavoury noun usually associated with a certain part of the male anatomy that comes by the pair.
I caught a segment of the 'Tonight' programme on Irish television earlier in the week in which Sir Jeffrey Donaldson was taking part. Asked what was his problem with the Single Market and the Customs Union, he asserted that they prevent the UK negotiating trade deals with non-EU countries, deals which he was sure would benefit Northern Ireland businesses. When it was pointed out that most of those countries, including those who are members of the Commonwealth, prefer to deal with the UK as part of the much larger EU market, he responded by saying he had recently returned from Egypt where he led a trade mission from Northern Ireland, securing lucrative contracts for Northern Ireland businesses.
I felt like shouting at the screen: "membership of the EU didn't prevent you doing that, then!"
Also this week, Channel 4 News asked a random sample of English people to mark the border between Northern Ireland and the Republic on a map of the island. The results were astonishing, showing that most people have no idea that, for example, the most northern point of the island, Malin Head, is in the Republic. Britons frequently refer to Northerrn Ireland as "Ulster" – I used to do it myself but have carefully avoided doing so in this post. The fact is that the ancient Irish province of Ulster includes Donegal which is in the Republic, to the west of Northern Ireland.
But whilst this week's controversy has been concentrated on the land border between the UK and the EU, and the implications for the Northern Ireland peace process of any reinstatement of a border between the two parts of the island of Ireland, no-one ought to lose sight of the UK's east and south coasts with their many ports, from Aberdeen to Southampton, all of which handle traffic between the UK and continental Europe and all of which will need some degree of additional policing if the "best deal for Britain" that David Davis is so eager to achieve falls short of the existing arrangements. And then there are the 16 regional airports*, as well as Heathrow, Gatwick and Stanstead.
I am only an ordinary citizen, although I did once dabble in local politics and even stood as a candidate for the European parliament, but I cannot comprehend how anyone could imagine that any "deal" could be better than the one we already have. I make no apology for repeating again what I said before the referendum, here, and, afterwards, here, and have continued to say in the period since.
As this comprehensive Facebook post from Jon Danzig at Reasons2Remain makes clear, the months of uncertainty, negotiations, and costly preparations that the UK has been forced to endure, and will continue to endure through the proposed two year "transition period", are utterly pointless if the deal that is struck at the end of the process looks anything like the one we already have. And, if it doesn't, then businesses that rely on fast freight transfers between the UK and EU will be hampered and their customers, the citizens of Britain, will pay the price.
*For anyone interested the 16 are, in alphabetical order, Birmingham; Blackpool; Bournemouth; Bristol; Cardiff; East Midlands; Exeter; Humberside; Leeds Bradford; Liverpool; Luton; Manchester; Newcastle; Norwich; and Teesside.