Home » Posts tagged 'Durban'
Tag Archives:
Durban
My series of memories from my long career as an Engineer will now appear every Monday, instead of fortnightly as hitherto. Here is a fairly long final installment about life in South Africa during 1974.
Weekends we would often get in the company car and drive out to one or other of the many beauty spots nearby: Oribi Gorge, Nagel Dam, the Drakensberg Mountains and, of course, Zululand again, this time without the distraction of a would be rally driver in front. We visited Durban zoo, the reptile park and quiet coastal resorts down the coast. One of these had a tidal pool. This was good because sea bathing was ill-advised unless shark nets were in place. The tidal pool facilitated a close encounter with the ocean's waves without the risk of attack by sea-borne predators.
Often on Sundays we would spend the greater part of the day at the poolside of the hotel where we had stayed before we were properly housed. Sitting in the shade with a book, occasionally looking up to see the children enjoying the water, savouring a curry washed down with Lion ale, it was easy to believe that life could hardly get better.
In July – the winter in the southern hemisphere, remember – we took a two week holiday and motored up to the town of Sabie, about 500 miles to the north. Internationally there was a fuel shortage and a speed limit of 50 miles per hour was in force. The same restriction applied in the UK, accompanied, from 1st January to the end of March, by restrictions on commercial use of power which had the effect of reducing the working week to 3 days.
For much of our journey we were on empty dirt roads, straight so far as the eye could see, bounded by fields of maize. We had been used to driving in the rolling green hills of Natal with clusters of African dwellings clinging to the hillsides and in deep valleys. Once we arrived in the vicinity of our destination we discovered a land of forested hills that reminded me of paintings of Scotland. From our base in Sabie we took day trips to various tourist destinations including the Blyde River Canyon, where centuries of erosion have created multi-hued hemispherical hollows in the rock face, and God's Window, a part of the escarpment created by the Great Fault from where it is possible to look across the lowland plain a thousand feet below.
One day we drove down the escarpment to that lowland plain with its orange groves, and on to the wild life reserve, Kruger Park. Before we set out at 8am I had to scrape ice from the windscreen. By 10am, down on the plain, the temperature was in the 80s Fahrenheit. In the reserve it was dangerous to wind down the windows. We saw zebra, giraffes, elephants and various species of deer, all in their natural environment, often just glimpsed through the scrub, but no lions.
Another day we visited a nineteenth century mining village, preserved as it would have been during the South African Gold Rush. One of the timber buildings, all of which resembled the kind frequently seen in Hollywood Westerns, housed a shop selling souvenirs and local crafts and produce. The place seemed to be run by two rather camp young men. A woman in front of me commented on the local honey displayed for sale: "Do you make it yourself?" she wanted know.
"Yes, aren't I a busy bee?" came the reply in a pastiche of camp.
This surprised us in a country where the NGK (Nederlands Gereformed Kirk or Dutch Reformed Church) had such influence on behaviour. But then, the State and Church were full of contradictions. Like the heritage site we visited once where, after a tour of the rondavels, we were treated to a demonstration of African traditional dance by bare breasted women. I couldn't help describing this particular "attraction" as "the human zoo". African topless dancers were acceptable whilst a young white woman who performed a cabaret act in which she danced wearing a live python and very little else was prosecuted for indecency.
I cannot recall how it began, but somehow Ian struck up a relationship with an elderly lady who was a permanent resident at another of the hotels in town. During the long school holidays he would spend hours in her company, playing cards and, I have no doubt, listening to her life story. I must ask him how much of this he remembers now.
Freda was quite content to do the small amount of housework required herself. During our first weeks in the new house it was not unusual for her to answer a knock at the door and find a young African woman looking for employment as a maid. Several times she refused these offers. She discussed it with Walter's wife, Vi, who had taken on a 'Girl' as these women were called. "You should," Vi advised. "For one thing, once you have one, the others will leave you alone. But where's the harm? They have no other source of income."
Freda wondered if they could be trusted, but decided to engage the next young woman who came seeking employment. There were rules attached to such casual arrangements. The 'girl' must not use the same washing and toilet facilities as the family. The block of five houses had been provided with a small brick building at the back which is where 'girls' were supposed to take care of their personal hygiene. Freda let our 'girl' know that she had no objection to her using our downstairs toilet.
Another rule dictated that whites were not permitted to enter the African village where these 'girls' resided with the male family members who worked at the plant. So we were not supposed to give her a lift home at the end of her working day. Not even after using her as a child minder on nights when we drove into Durban to catch a show or to go dancing in one of the dance halls. Strictly speaking, blacks were not permitted in 'white' areas after dark so we were breaking two rules when we did this.
One thing that became obvious was that the Europeans in Natal, perhaps because it had been a British colony, were far less bigoted in their view of the Africans than were those in the other provinces, at least so far as one could tell from comparing observed behaviour with what we read of events and attitudes elsewhere in the Republic. Our transport manager, with whom I had frequent contact due to our continuing use of the company's vehicles, was an Afrikaaner. As such he was one of the few people I met who was open in his contempt for Africans – he usually referred to them as 'Kaffirs' – and would pontificate about them and their perceived short comings at length given half a chance.
One of his stories, told more than once, was of a visit by the British Labour foreign secretary George Brown several years before. It was an open secret that Brown had a drink problem and Van – the man's surname was Van Roen, always shortened to Van – Van was full of scorn in his description of Secretary Brown stumbling and staggering in and out of the diplomatic car. Van also told us that the BBC crew accompanying the British minister had filmed black children scavenging in dust bins which, Van assured me, had been staged by throwing coins into the bins. It was never clear whether Van had actually witnessed any of this in person or if it was an apocryphal tale the details of which had been embellished through frequent tellings and re-tellings.
Van also had a theory – and it was undoubtedly plausible – that the bloom of red silt that we saw each summer flowing from the river into the ocean was the result of inefficient agricultural methods employed by the 'Kaffirs'. Van's contempt for their ignorance never seemed to extend to the idea that 'The Kaffir' would benefit from education.
Fortunately that attitude did not have an echo in company policies. Design drawings are traditionally produced on tracing paper from which prints are prepared for use by those implementing the designs. Every drawing office has its print room where the machines for reproducing the drawings are housed along with the stored originals and catalogues of all drawings. The operation of these machines and the maintenance of the drawing register is usually the responsibility of a clerk. At SAICCOR that clerk was an African.
At the staff Christmas party in December 1974 I talked with one of the directors, an English man who assured me that white rule would be ended in the near future: it was in everyone's interests, not least the business community who would gain a vastly increased market as Africans acquired greater purchasing power. The recent granting of a license to Philips to roll out a television service would help to facilitate this change. Eighteen months later I would witness on British TV the Soweto uprising and subsequent reinforcement of discriminatory laws. It would be another 15 years before the release of Nelson Mandela and the eventual enfranchisement of Black South Africans. Almost 30 years after that there is still appalling poverty in the Republic whose government is well known to have been plagued by corruption.
I wish I could illustrate this post with my own photographs. Although I took many, a lot have been lost in the course of several house moves since. The ones that survived are of very poor quality. I have found better quality photographs on the web and acknowledged their provenance in the captions. Please follow the links to find lout more bout the places featured. Next Monday I'll tell you what happened on our return to the UK 45 years ago this month.
Continuing the occasional series in which I record significant events from my life. This installment takes up a couple of months before the previous one ended.
For the first couple of weeks after Freda and Ian arrived, in September 1973, they joined me in the hotel which I had been staying in since my arrival. Soon we were offered a furnished house. A traditional colonial style bungalow with a tin roof and veranda, this cottage had been vacated by the owner who had a modern bungalow built at the back. At first it seemed quite romantic with its early twentieth century furnishings and decor. That was until the night Freda went into the kitchen to brew a nightcap – and screamed.
Anyone who knows anything about cockroaches will know that they hate the light. They come out to play after dark. If their playground is suddenly illuminated, by someone switching on a light for example, they scuttle back to their hiding places – in this case under the kitchen cabinets. "I'm not staying here," was Freda's verdict. When I explained the situation to the HR department, who passed it on to the owner, that lady insisted there were no cockroaches in her house, implying that we were impugning her reputation by suggesting such a thing. In that case, why were there several cockroach traps under various pieces of furniture? We wondered.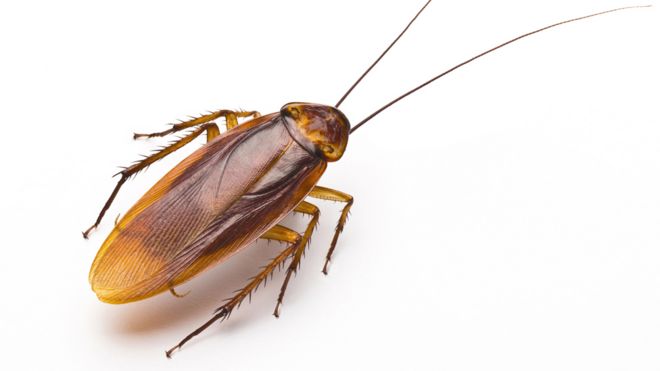 The company agreed to relocate us at the hotel for the time being. Construction, by a local developer, of a block of five terraced houses was almost complete and the company had taken a lease on two of them. One would be allocated to us. We were given an allowance to spend on furniture and textiles and told to visit an emporium in the inland town of Alexandria. "Ask for Smiley", we were told.
"Smiley" turned out to be a very accommodating Indian gentleman and we selected beds, a settee and chairs, curtains and bedding from his overflowing warehouse. The day we moved in, the developer pointed out that a pair of Minah birds had constructed a nest in the eves. Should he remove it? No, we said. It would be a shame to disturb the birds, at least until after their young had fledged. Also, it would be interesting for Ian to watch the birds.
We got into the habit of doing our weekly shop on a Saturday morning in a new mall in the larger town of Amanzimtoti a few miles away on the road to Durban. We had become used to hearing the birds chatter but one Saturday, as we were having lunch after our shopping trip, they seemed especially noisy. "Those birds are inside," Freda said.
"Don't be silly, how could they get in?" was my response.
"I left the bedroom window open."
With that she climbed the stairs – and, once again, screamed.
One of the birds had indeed come in through the window. Confused by the dressing table mirror, which was situated directly opposite the window, it had been trying to fly out of the reflected window. We succeeded in guiding it to the real window. There was now an awful mess to clear up.
All three of us developed itchy rashes which we put down to the change of climate. Several mornings we noticed accumulations of grit on the corner of the bath. Then one day I noticed that the 'grit' was moving. Once again we contacted the HR department and they sent along someone to have a look. "You have an infestation of bird lice," was the verdict. "The birds' nest has to be destroyed and the whole place fumigated."
With the birds removed and the place fumigated we settled into a routine. The house was on a hill overlooking the estuary and the Indian Ocean, a view we never tired of. Ian was, by now in school. At that time in South Africa children did not commence school until they reached 7, unlike the UK where 5 was the usual starting age. At 8, Ian was therefore 2 years ahead of most of the children his age in the school and entered the 4th year alongside 10 and 11 year olds. Indeed, some were older because a grade system was in use which meant that children who failed to make the grade at the end of any year were held back. Ian, I'm glad to say, had no trouble keeping up, except with regard to the compulsory second language, Afrikaans.
Our son also joined the cub scouts. This was run by the wife of the factory's Electrical Engineer, both of them German and both delightful to know. Over our time in South Africa we took part in various fund raising efforts for the Cubs and helped out at some events.
Before we knew, the spring of 1973 had metamorphosed into summer, the highlights of which were Christmas and New Year celebrations. These included an outdoor Christingle service on the village football ground and a factory Christmas party at which a group of the African labourers entertained us with their "Gumboot Dance", a traditional African stomping dance performed in Wellingon boots.
By then the house next door to us had been let to a young couple. The husband was a Welsh Chemical Engineer. Having begun his career in one of the steel mills in South Wales, he had emigrated to South Africa to work for the South African Steel Corporation (SASCOR). From there he had moved to SAICOR with his Dutch wife. For clarity, when I say "Dutch" I mean that she was born in Holland, not that she was a South African of Dutch descent. As a new employee he was provided with temporary accommodation whilst he awaited the construction of his own house in the company's staff village. This was an area of land owned by the company where employees could purchase a plot and have a house built to their own specification.
They brought with them twin boys about 2 years old, both as blond and pale skinned as their mother and each determined to play with the other's toy despite having his own identical copy! The poor woman was forever having to break up fights between them, or so it sometimes seemed. To be fair, they were a delightful family and we quite often "babysat" for each other.
The summer climate was extremely hot and humid – or seemed so to us being more used to the British climate. Days would usually begin very hot with clear skies and brilliant sunshine. In the afternoon clouds would appear and the atmosphere would become very oppressive. There were frequent thunder storms with torrential rain in the late afternoon and early evening. One consequence of this was that the ocean in the vicinity of the estuary became red with the soil being carried down river from cultivated lands in the hills above.
The other feature of the portion of ocean visible from our windows was a long line of white surf about a mile off-shore. This, we learned, was a rocky outcrop known as the Aliwal Shoal. One Sunday, having taken Ian to a scouts' event in a town a few miles down the coast, I noticed as we were traveling back without him, a tanker that appeared to be too close in. We stopped at a lay-by to take a closer look and it was obvious that the vessel was listing. Once back in Umkomaas we watched from our upstairs window as a couple of the ski boats operated by local fishermen journeyed to the stricken vessel to bring the crew to shore.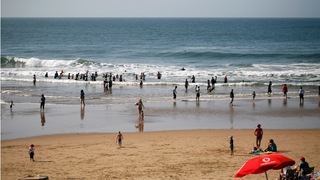 Ian was back in town in time to see the helicopter that landed to take the crew back to Durban. According to the newspaper the following day, the vessel was carrying molasses (raw sugar) from Mozambique. It had docked in Durban to refuel on the Saturday. It seems the Norwegian crew had a good night out in Durban and, after leaving the port on Sunday lunch time, had set a course due South before heading for their bunks, forgetting to allow for the Aliwal Shoal on their course.