Home » Posts tagged 'Howden'
Tag Archives:
Howden
After listening to the village church bells ringing in the new millenium, I joined their team and began once again to learn the art.
From our arrival in East Yorkshire onwards I continued to help at elections. We got to know the Liberal parliamentary candidate in the area, an elderly woman who occupied a large house where she held the occasional garden party to raise funds.
Following boundary changes, a new candidate was selected for the newly created Howden and Haltemprice constituency. Diana Wallis was a successful solicitor and I recall attending several meetings at her home ahead of the 1997 general election and the 1999 European election. In 1997 she came second to David Davis, in 1999 she was one of several MEPs elected for the Yorkshire Region. She was re-elected to the European Parliament in 2004 and held several important roles there. She has since left the Liberal Democrats, becoming a founder member of the Yorkshire Party.
In 2001 and 2005 the Liberal Democrat candidate was a young man called Jon Neal and in 2001 he succeeded in reducing Davis's majority. A young PR manager from the local Independent Radio station stood against John Prescott in the Hull East constituency. Because this seat was regarded as safe for Labour, very little effort went into the Liberal Democrat's campaign.
Howden, however, was regarded as a Liberal Democrat "target" and that young woman worked hard for Jon's team. Her name? Jo Swinson. Last week she was elected leader of the Party, having secured election to Parliament in 2005 in her native Dunbartonshire. Jon Neal stood again in 2010 but has since moved to Suffolk where he works for the mental health charity Mind.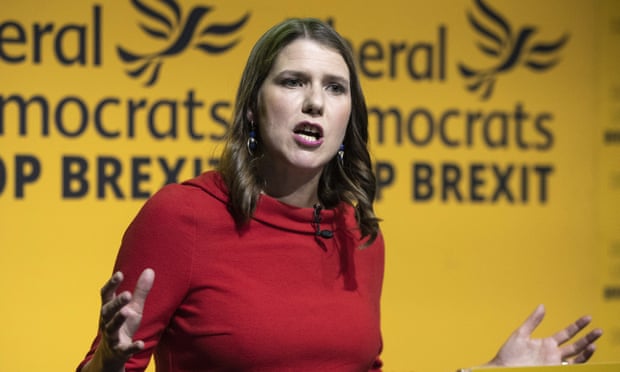 In the early noughties we took our summer holidays 3 times in Cornwall and contemplated moving there after retirement. The verdant countryside and spectacular coastline were very tempting. House prices less so – especially when compared to values in our part of Yorkshire. So, when, in 2004, we began seriously to consider our retirement options we rejected that idea.
We could, of course, stay where we were. However, we were a long way from Freda's relatives in Hereford, my mother who was now in Kent alongside my sister and her family, and our son in Ireland. We decided to investigate the possibility of moving to Ireland. We had our house valued and discovered that it had increased by over 150% since we purchased it in 1991. There had been a period when house prices were static through the early '90s so most of this increase had taken place over about 10 years.
During that time there had been many changes to housing finance. When we purchased we were paying 13% or 14% interest. As time went on, interest rates fell. The chancellor took advantage of the falling interest rates to reduce and, eventually, eliminate tax relief on mortgage interest.
Of course, falling interest rates meant that the returns on the investments backing the endowment policy were reduced and providers began issuing warnings that the final payout may not be sufficient to repay the outstanding capital. Borrowers were advised to maintain the level of payments as the amount required to cover interest reduced, so as to chip away at the outstanding capital.
We were able to do that and, by the time our 15 year endowment mortgage matured, in April 2006, we had a small cash surplus.
As the end of the contract approached I learned the team was to be split, and each part augmented to create two full teams, one to undertake an identical contract on a second of Eggborough's four boilers whilst the other moved to Ironbridge to repeat the work on one of that site's two. The contract manager was going to head up the Ironbridge team and wanted me as his planner. There would be a lodging allowance and mileage for travel home every Friday afternoon and return on Saturday night/early Sunday morning. (The standard pattern of work on these contracts was Sunday – Friday with Saturday off).
After discussing this turn of events with Freda, we agreed that she would give up her job if we could find a holiday let in the area for the whole three months. The contract manager was happy for me to use my allowances in this way. We found a cottage in the village of Plaish, between Much Wenlock and Church Stretton. The proprietor had just finished modernising it and put it on the holiday let market, so was pleased to be able to let it to us for the whole summer. It meant that we had our evenings, Saturdays and August Bank Holiday to spend together exploring the Shropshire countryside. It was also near enough to Hereford for more regular contact with our relatives there than we usually had.
Living in the country made us realise how much we had come to miss the joy of being surrounded by nature and creating a garden. Added to this was the long drive from Cleethorpes to the company head quarters or any of the power stations. We decided to look for a house closer to Snaith and the motorway system. We looked at the outskirts of Pontefract, a new estate in Goole, and a number of other places before we settled on a small development just coming to market in the village of Eastrington, a short distance from the ancient market town of Howden.
I was approaching 50 so needed a 15 year mortgage. At the time interest rates were very high by current standards. However, interest charges could be offset against income tax, as could the premiums for life insurance. The financial services industry came up with a scheme whereby the loan was covered by a life insurance policy which would pay out a lump sum at the end of the term – an endowment.
Later, many firms would be accused of miss-selling such products because they continued to encourage clients to take them on when the tax incentives were no longer available.
At the time, however, it was ideal for people like us for whom the capital element of any repayment would need to be relatively large in order to pay back the loan in such a short time. We moved in early in April of 1991.
The winter months in the company's business were spent compiling estimates and plans for future work. The team was familiar with all of the routine tasks and knew from past experience how long they should take and what the resultant cost would be. The "Low Nox" installation was an exception, but now that we had completed three installations that, too, could be estimated and planned with confidence.
Up to that time contract plans had been constructed manually. A decision was taken to computerise the operation. The company purchased new PCs and a project planning software package called Pertmaster. One of the young software developers who had been a member of the development team at Pertmaster was recruited to oversee the introduction of the system and a group of us spent most of our working hours during January 1991 holed up in a hotel seminar room learning, not only how to use the software, but a good deal about the fundamentals of PC architecture at the time.
The work plan for the overhaul "season" in 1991 included a repeat of 1990 – two outages at Eggborough and one at Ironbridge. I should not have been surprised to learn that I was not required at Eggborough. When June arrived and we began work at Ironbridge with most of the team from the previous summer, the possibility of taking a holiday let was not a practical option. Unlike before, when we had friends in Cleethorpes who could, and did, keep an eye on our property in our absence, we did not yet know anyone in Eastrington well enough to do the same.
I spent my nights from Sunday to Thursday lodging in a boarding house together with most of the other team members, driving home on Friday evening and back again very early on Sunday morning.
With the contract ended, in the autumn, it was back to planning future work in head office. With major work now completed on many stations – ours was not the only company in the business – the future work load was likely to be less intensive.
For my 50th birthday Freda contrived to surprise me by inviting a group of our old friends from Cleethorpes Liberal Party. I knew nothing about it. They all arrived whilst I was in the bath and must have come in very quietly. I was completely taken aback when I came down the stairs, which led right into our living room, to find them all sitting there!
One morning, a couple of weeks after that, I was called into the manager's office and told to pack up my things and go home. I was being made redundant. I could, if so minded, return on a temporary contract basis, next summer.
Meanwhile Ian had taken a job as a community psychiatric nurse in Surrey, working from a building attached to a large hospital where he was able to live in the nurses' accommodation. There he had met an Irish woman who was working in the same hospital.