Home » Posts tagged 'Hull'
Tag Archives:
Hull
After listening to the village church bells ringing in the new millenium, I joined their team and began once again to learn the art.
From our arrival in East Yorkshire onwards I continued to help at elections. We got to know the Liberal parliamentary candidate in the area, an elderly woman who occupied a large house where she held the occasional garden party to raise funds.
Following boundary changes, a new candidate was selected for the newly created Howden and Haltemprice constituency. Diana Wallis was a successful solicitor and I recall attending several meetings at her home ahead of the 1997 general election and the 1999 European election. In 1997 she came second to David Davis, in 1999 she was one of several MEPs elected for the Yorkshire Region. She was re-elected to the European Parliament in 2004 and held several important roles there. She has since left the Liberal Democrats, becoming a founder member of the Yorkshire Party.
In 2001 and 2005 the Liberal Democrat candidate was a young man called Jon Neal and in 2001 he succeeded in reducing Davis's majority. A young PR manager from the local Independent Radio station stood against John Prescott in the Hull East constituency. Because this seat was regarded as safe for Labour, very little effort went into the Liberal Democrat's campaign.
Howden, however, was regarded as a Liberal Democrat "target" and that young woman worked hard for Jon's team. Her name? Jo Swinson. Last week she was elected leader of the Party, having secured election to Parliament in 2005 in her native Dunbartonshire. Jon Neal stood again in 2010 but has since moved to Suffolk where he works for the mental health charity Mind.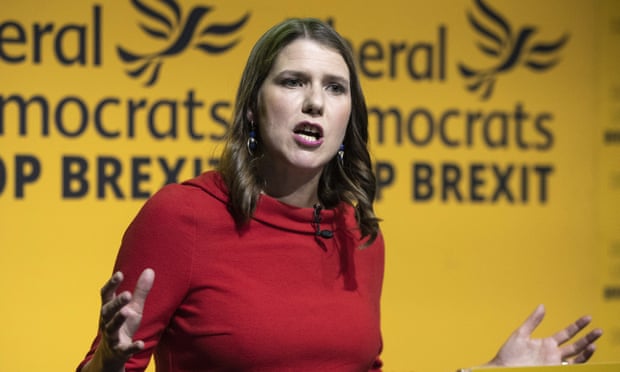 In the early noughties we took our summer holidays 3 times in Cornwall and contemplated moving there after retirement. The verdant countryside and spectacular coastline were very tempting. House prices less so – especially when compared to values in our part of Yorkshire. So, when, in 2004, we began seriously to consider our retirement options we rejected that idea.
We could, of course, stay where we were. However, we were a long way from Freda's relatives in Hereford, my mother who was now in Kent alongside my sister and her family, and our son in Ireland. We decided to investigate the possibility of moving to Ireland. We had our house valued and discovered that it had increased by over 150% since we purchased it in 1991. There had been a period when house prices were static through the early '90s so most of this increase had taken place over about 10 years.
During that time there had been many changes to housing finance. When we purchased we were paying 13% or 14% interest. As time went on, interest rates fell. The chancellor took advantage of the falling interest rates to reduce and, eventually, eliminate tax relief on mortgage interest.
Of course, falling interest rates meant that the returns on the investments backing the endowment policy were reduced and providers began issuing warnings that the final payout may not be sufficient to repay the outstanding capital. Borrowers were advised to maintain the level of payments as the amount required to cover interest reduced, so as to chip away at the outstanding capital.
We were able to do that and, by the time our 15 year endowment mortgage matured, in April 2006, we had a small cash surplus.
The draughtsmen we employed in the capital projects department at Courtaulds in Grimsby were supplied by an agency which had been set up some years earlier by a former employee. After losing my county council seat I contacted the MD , sent him my CV and enquired if he had any suitable vacancies. He sent me to Tioxide, then a subsidiary of ICI, who operated a titanium dioxide manufacturing facility a short distance along the Humber bank from Courtaulds. I was offered a job as a draughtsman. The hourly rate was equivalent to a salary rather more than I had been getting at Courtaulds 3 years earlier but without paid holidays, sick pay or pension rights.
There was still one more political commitment to fulfill: the European Election in June. At this time the UK was still using First Past the Post for elections to the European Parliament, except in Northern Ireland. PR for elections to the European Parliament for the whole of the UK was not introduced until 1999.
The party had no money to spend, despite its enthusiasm for the EU "Project". Debts had been incurred running the Richmond by-election and the county council elections. Councillors distributing post-election newsletters were asked to include a plea for support for our candidate in the European election and that was it. There was a £1,000 deposit to find. We "crowd funded" it – 10 people, including me, each pledged £100, in the hope that we would gain a vote share large enough that we would not have to forfeit the deposit.
I attended election meetings in Hull and Bridlington, where neither the Labour nor Tory candidates bothered to turn up, although they did send representatives. The same was true of a phone-in on BBC Radio Humberside. A TV crew filmed me handing out leaflets on the main street in Barton-upon-Humber and the late Nick Clarke, from BBC Newsnight, interviewed me over the phone – this was to gain impressions, not for broadcast.
The count was held on a Sunday in Hull City Hall. The Labour candidate, married to a Labour county councillor I knew and liked, won. The Green candidate came third. Nationally the Greens took almost 15%. I struggled into fourth place just ahead of the SDP candidate. I took the opportunity to make a speech pleading with the dissenting members of Liberal and SDP to recognise that they were destroying any future for the centre ground in British politics.
We lost our deposit. I paid up my £100 share. I'm not sure how many of the others shelled out but suspect the agent had to find more than £100 from his own pocket.
I still had two years to serve as a Borough Councillor but, apart from continuing to help at elections, my dream of a political career was now over.
At Tioxide I was working on small improvement projects not unlike those I had managed at Courtaulds. There was one major project that occupied the majority of men, and one woman, working in the small office. Among the staff there were a couple of young men and two guys older than me with wide experience as Project Engineers or Site Engineers. Their draughting tables were across an aisle from mine, the young men behind me. We were all employed by the agency. I tended to relate more closely to the older guys and drank with them at lunch time in a converted Humber ferry moored in Grimsby docks.
With me now earning a reasonable income once again, and Freda working in the small supermarket a short distance from our home, we decided to move into a larger apartment. I had fitted all new kitchen cabinets and carried out various other improvements to our existing apartment, including hiring a plumber to upgrade the bathroom. With a relatively small loan we could afford to move to something more spacious. We purchased the whole upper floor and the back kitchen of a large semi-detached house on Queen's Parade, not far from the sea front, moving in in November.
A Stupid Decision
The young men in the office came to the conclusion that the woman was being favoured in some way by the supervisor. There was a suggestion that she had been permitted to book more hours than she had actually worked. After a number of days of listening to their mutterings I suggested they take the matter up formally with the supervisor. I really should have known better. I was nominated to undertake the task.
The supervisor, of course, denied the allegation. When I attempted to press the case he said I was accusing him of lying. Within a matter of hours the HR director from the agency was in the supervisor's office. It did not take long. He came to my drawing board to tell me that unless I apologised I was dismissed from that assignment. Furthermore, he had no other vacancies available.
I decided to eat some humble pie and apologised. But I knew that my days there were numbered and began searching the situations vacant pages of the Yorkshire Post and Daily Telegraph for suitable jobs.
My decision to leave that place was strengthened when an interesting development project on which I had worked with a young, female, chemical engineer was transferred from Grimsby to the Tees side head quarters. We had proved the recycling process with a small pilot plant and I was looking forward to being involved in scaling it up to full production. The company board decided that work would be undertaken at head office, leaving me disappointed.
This recollection is provoked by the news that the MP for Tatton, George Osborne, has been appointed to edit the London Evening Standard whilst maintaining his seat in Parliament and his other highly lucrative, if part-time, jobs.
In the 1980s I decided that, if I wanted to change the world, it was time to stop moaning and get involved in politics. I joined the Liberal Party and stood for election to the County Council. I didn't make it at the first attempt but four years later – in May 1985 – I was successful. I became one of four Liberals holding the balance of power between 36 Labour and 35 Conservative councilors.
It was a large county. About a quarter of the population of over 800,000 resided in the city of Kingston-upon-Hull. Grimsby and Cleethorpes formed the next largest centre of population. Scunthorpe was also included within the county boundary as were three other sea-side resorts, the port of Immingham and eight or so medium sized towns.
Back then the County Council had responsibility for Education – schools, colleges and adult education; Social Services, including childrens' homes and old people's homes; Economic Development, which included responsibility for a small airport; Libraries, Police and Fire Services, Weights and Measures inspectorate and the maintenance of major roads. The Authority employed in excess of 20,000 people in these important activities.
The four of us decided from the outset that we would not form a coalition with either of the other two parties. Instead we insisted that every decision must have the agreement of a majority of members. It didn't matter how that majority was constituted so long as two of the three parties were in agreement. Of course, that meant we had to be represented on every committee, sub-committee, and ad-hoc panel or consultative body.
Airport management
To begin with it didn't look as if the commitment would be too heavy. The council worked on a 3-monthly cycle during which each main committee and the full council met once. So, two committees plus full council would mean twelve meetings a year, one day a month to take off from my job. But the Education Committee had two large sub-committees, one dealing with schools and the other with everything else. And there was a sub-committee of Economic Development to deal with management of the Airport. So that doubled the commitment to two days a month. Still quite doable.
But Schools Sub-Committee members were expected to meet with the governors of the schools in their area. If a school was facing a possible upheaval of some kind there would be meetings to be had with governors, teachers' representatives and parents. If an employee was accused of some misdemeanor he or she had the right of appeal to a panel including councilors. Recruitment to fill vacancies in senior positions in the Authority was undertaken by a panel including members. And I've posted elsewhere about the panel of members, advised by staff, who determined which young people could and which could not receive a grant for their third level education.
Severance
Before long I was taking two, sometimes three, days off every week. My employer was remarkably generous in granting me this much time off for what the contract of employment defined as 'public service'. The deal was that I continued to receive full pay so long as I returned to the company any allowance I received from the council for carrying out those duties. After a year and a half I was asked if I'd prefer to leave. I was offered a very generous severance package which I am still reaping the benefit of 30 years later.
The council embarked on the full scale reorganisation of the schools in Grimsby which involved closing every existing school and opening a bunch of new schools covering different age ranges. Every teacher in that part of the county had to accept early retirement or apply for a job in one of these new schools. The process began soon after I was elected with a consultation exercise in which the nature of the proposed change and the reasons for it were explained at a series of meetings. Feedback from the consultation was debated and the proposal document amended accordingly. Once the plan was approved by the Department of Education at Westminster it had to be implemented. Councillors sat in a long series of meetings with governors to choose heads and deputy heads for the new schools.
The work of a councilor, in these circumstances, did indeed become almost a full time job, for a while at least. For the first 6 months after leaving my job I worked unpaid for the Party, as election agent for the District Council election and the General Election that followed a month later. My wife and I decided to find a shop – a disastrous venture the details of which have no place in this post. I got a part-time freelance job as a feature writer and advertising sales agent for a regional business magazine.
All of this recollection is provoked by the news that the MP for Tatton, George Osborne, has been appointed to edit the London Evening Standard whilst maintaining his seat in Parliament and his several other highly lucrative, if part-time, jobs. He is the same age as I was when a county councilor. Several former editors of the Evening Standard were interviewed on the BBC last night. At least one suggested that the job could occupy up to 100 hours a week. I dare say the job that Osborne has taken, though described as Editor, is much reduced from what the person with that title formerly had to undertake. Even so, I don't envy him trying to juggle the demands of both roles. He has to survive until May 2020 unless he decides to resign from one or other post before then.
Will he last three years? I'm not a betting man, but I am inclined to think that he will not. What do you think?