Home » Posts tagged 'Irish music'
Tag Archives:
Irish music
In the run up to retirement I was repeatedly asked "What are you going to do with your time?" I was in no doubt, and told anyone who asked, that writing and painting were things I'd always wanted to do. Colleagues very kindly presented me with retirement present consisting of a selection of artist's materials – acrylic paints, pastels, an easel and a pad of art paper.
The first weeks in the new house were taken up with creating a garden in the small space at the rear, shopping for furniture, and carrying out various DIY tasks to provide features that the developer had not covered. My daily routine included an hour walking to the town centre to purchase a newspaper and returning. This took me past a new senior school still under construction. By January 2007 the school was open and offering a range of evening classes for adults.
I joined the art class, Freda the flower arranging group. By the time the 10 week course was over I felt I was not learning anything of value. A brief item in a local newspaper indicated that a local group of amateur artists, who met weekly, were looking for new members. I contacted the lady whose number was provided in the article. I became a member of the group and remained so for the next 5 years.
I also wanted to resume providing my services as a volunteer. In April, in Ireland, a "Clean up week" takes place, the idea being for volunteers to participate in the collection of litter and a general tidying up of the local environment. Freda and I joined in with this event and were thereby introduced to the "Tidy Towns" group. Evenings during the summer were then spent planting up, and maintaining, various containers and hanging baskets around the town.
Tidy Towns is a movement not unlike the "Britain in Bloom" initiative in UK. Groups of volunteers in every community work hard to improve the appearance of their town or village through the use of planting and the clearing of weeds and rubbish from all those untidy corners; streams, lakes or canals. An annual competition is held to award certificates to those communities deemed most successful in these activities.
As keen gardeners we enjoyed both the physical activity involved and the camaraderie (the "craic") that accompanied it. We would often end an evening of hard work with an hour of relaxation in one or other of several pubs. We continued as active members of the Tidy Towns group for the next 4 years.
Also that summer, 2007, a music festival, grandly entitled "The World Fleadh" (pronounced flaah), took place in the town. They appealed for volunteers with the offer of free entry into some of the concerts due to take place. I offered my time and was assigned the task of looking after the festival camp site. This proved to be not very onerous as there were only a handful of caravans, motor homes and tents.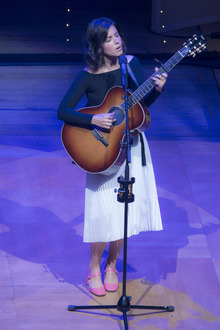 The atmosphere around the town during the festival was electric, with stalls selling street food, cheap jewellery and clothing lining one street. The music on offer majored on Irish traditional music but included some mainstream popular genres also. I remember watching Katie Melua, for example, as well as a Manchester based Irish folk Group I had first seen, and been very impressed by, in UK a few years before – Flook.
All of this activity took up the summer but autumn and winter loomed with little by way of daytime activity to occupy us. Then, in January, a newsletter was distributed around the town by a semi-state organisation involved in community development. They were responsible for several projects, all described in the leaflet, which also indicated that some of those projects needed volunteers. I contacted the organisation and, after a brief interview in which I pitched my background and skill set, I joined as a volunteer administration worker carrying out various tasks over 3 hours each Wednesday morning.
The organisation had applied for funding for a new project, this one concerned with helping elderly people with simple tasks in their homes. The application had been rejected because it included certain activities which were already within the remit of the national Health Service Executive. It was necessary to submit a revised application with that element removed. This meant completely re-working the financial justification and cash flow predictions. This task was assigned to me.
In the summer, with funding for the project approved, a steering group was established to kick start it, recruiting staff and finding premises. As a member of the target demographic I was co-opted to that committee as chairperson.
I watched something on television earlier in the week about Josef Herman, the Polish born artist who settled in South Wales where he produced iconic paintings depicting the lives of miners. The presenter and his interviewees, who included actor Michael Sheen, were full of nostalgia for the lost communities of the heyday of Welsh industry. I could not help recalling earlier works like "How Green Was My Valley" and "Rape of a Fair Country", which deplored the destruction of the landscape brought about by industrialisation. It struck me then, how misguided is our love of nostalgia.
"How Green Was My Valley" has been exposed as a fraud, a novel written by an Englishman whilst serving in the British army in India and turned by Hollywood into a sentimental movie that created "a myth, a never-never land of pristine innocence ruined by the discovery of coal. His myth has generated more myths, of pits and singing miners and explosions, but it's a good yarn." [Meic Stephens, creative writing lecturer at the University of Glamorgan, quoted in an Observer article in 1999]
Last evening I attended a concert by The Black Family. For those who may be unfamiliar with this group of Irish musicians and singers, it consists of five siblings who achieved considerable success in the 1980s before going their separate ways as solo artists. Few will not have heard of either Mary Black or Frances Black. Once again, we were into the realms of nostalgia doubled; for the audience the songs with which the Black siblings achieved their original fame brought back memories of their own youth, whilst the songs themselves often recalled even earlier periods in Irish history, especially growing up in inner city Dublin in the 1960s and holidays on Rathlin Island, where their father was born.
All this reminded me, too, of that Python sketch in which three men vie with each other with stories of childhood hardship in working class homes.
Our whole political discourse seems to be imbued with this kind of false nostalgia. Britain's decision to exit from the European Union was driven by it. The appeal of Jeremy Corbyn's rhetoric is in large part because it harks back to an age when the gap between rich and poor was less marked than today. That, too, is something of a myth. It is true that the gap has widened significantly in recent decades but that was after a rare period of narrowing. Compared to, for example, Victorian times, the poor throughout the developed world are immeasurably better off than they were. Much better off in fact than the characters depicted in either of the novels referred to above.
Even terrorism, such as that which erupted in Manchester at the start of the week, seems to be driven by nostalgia; a desire by misguided young men to return to a time when people were cowed into obedience to a god who required them to deny their natures, when women knew their place as the chattels of men and those who dared to resist were subjected to humiliating punishments.
The truth is that you can not turn back the clock. The past was never as rosy as it is sometimes painted and was often a dark place where evil reigned supreme.
Vast numbers of people are far better off than their ancestors. Much of the prosperity we enjoy has been bought by mortgaging our future, by much greater environmental damage than either Richard Llewellyn or Alexander Cordell could ever have imagined. By all means let us learn from the mistakes of the past, but let's stop looking back and remember that the future belongs to our children.