Home » Posts tagged 'Power Generation'
Tag Archives:
Power Generation
As the end of the contract approached I learned the team was to be split, and each part augmented to create two full teams, one to undertake an identical contract on a second of Eggborough's four boilers whilst the other moved to Ironbridge to repeat the work on one of that site's two. The contract manager was going to head up the Ironbridge team and wanted me as his planner. There would be a lodging allowance and mileage for travel home every Friday afternoon and return on Saturday night/early Sunday morning. (The standard pattern of work on these contracts was Sunday – Friday with Saturday off).
After discussing this turn of events with Freda, we agreed that she would give up her job if we could find a holiday let in the area for the whole three months. The contract manager was happy for me to use my allowances in this way. We found a cottage in the village of Plaish, between Much Wenlock and Church Stretton. The proprietor had just finished modernising it and put it on the holiday let market, so was pleased to be able to let it to us for the whole summer. It meant that we had our evenings, Saturdays and August Bank Holiday to spend together exploring the Shropshire countryside. It was also near enough to Hereford for more regular contact with our relatives there than we usually had.
Living in the country made us realise how much we had come to miss the joy of being surrounded by nature and creating a garden. Added to this was the long drive from Cleethorpes to the company head quarters or any of the power stations. We decided to look for a house closer to Snaith and the motorway system. We looked at the outskirts of Pontefract, a new estate in Goole, and a number of other places before we settled on a small development just coming to market in the village of Eastrington, a short distance from the ancient market town of Howden.
I was approaching 50 so needed a 15 year mortgage. At the time interest rates were very high by current standards. However, interest charges could be offset against income tax, as could the premiums for life insurance. The financial services industry came up with a scheme whereby the loan was covered by a life insurance policy which would pay out a lump sum at the end of the term – an endowment.
Later, many firms would be accused of miss-selling such products because they continued to encourage clients to take them on when the tax incentives were no longer available.
At the time, however, it was ideal for people like us for whom the capital element of any repayment would need to be relatively large in order to pay back the loan in such a short time. We moved in early in April of 1991.
The winter months in the company's business were spent compiling estimates and plans for future work. The team was familiar with all of the routine tasks and knew from past experience how long they should take and what the resultant cost would be. The "Low Nox" installation was an exception, but now that we had completed three installations that, too, could be estimated and planned with confidence.
Up to that time contract plans had been constructed manually. A decision was taken to computerise the operation. The company purchased new PCs and a project planning software package called Pertmaster. One of the young software developers who had been a member of the development team at Pertmaster was recruited to oversee the introduction of the system and a group of us spent most of our working hours during January 1991 holed up in a hotel seminar room learning, not only how to use the software, but a good deal about the fundamentals of PC architecture at the time.
The work plan for the overhaul "season" in 1991 included a repeat of 1990 – two outages at Eggborough and one at Ironbridge. I should not have been surprised to learn that I was not required at Eggborough. When June arrived and we began work at Ironbridge with most of the team from the previous summer, the possibility of taking a holiday let was not a practical option. Unlike before, when we had friends in Cleethorpes who could, and did, keep an eye on our property in our absence, we did not yet know anyone in Eastrington well enough to do the same.
I spent my nights from Sunday to Thursday lodging in a boarding house together with most of the other team members, driving home on Friday evening and back again very early on Sunday morning.
With the contract ended, in the autumn, it was back to planning future work in head office. With major work now completed on many stations – ours was not the only company in the business – the future work load was likely to be less intensive.
For my 50th birthday Freda contrived to surprise me by inviting a group of our old friends from Cleethorpes Liberal Party. I knew nothing about it. They all arrived whilst I was in the bath and must have come in very quietly. I was completely taken aback when I came down the stairs, which led right into our living room, to find them all sitting there!
One morning, a couple of weeks after that, I was called into the manager's office and told to pack up my things and go home. I was being made redundant. I could, if so minded, return on a temporary contract basis, next summer.
Meanwhile Ian had taken a job as a community psychiatric nurse in Surrey, working from a building attached to a large hospital where he was able to live in the nurses' accommodation. There he had met an Irish woman who was working in the same hospital.
I attended a selection day, held in Leeds, for a company specialising in power station overhauls. At the end of the process the consultant informed me that he would be recommending me for both positions, those being Planning Engineer and Sub-contract Manager.
The next stage was an interview with a company representative at their head office. When I was offered the Planning Engineer role I asked "what about the other job?" and was told I was being offered only the Planning role. I accepted and began work on the first Monday of March 1990.
Power stations do not generally operate at full capacity during the summer in the UK. Their operators take the opportunity to shut some of them down in order to carry out major overhauls. Most consist of two or more generating "sets" so the whole station does not shut down, only one set at a time. On a four set station, two sets will be shut down over a six month period, each for three months.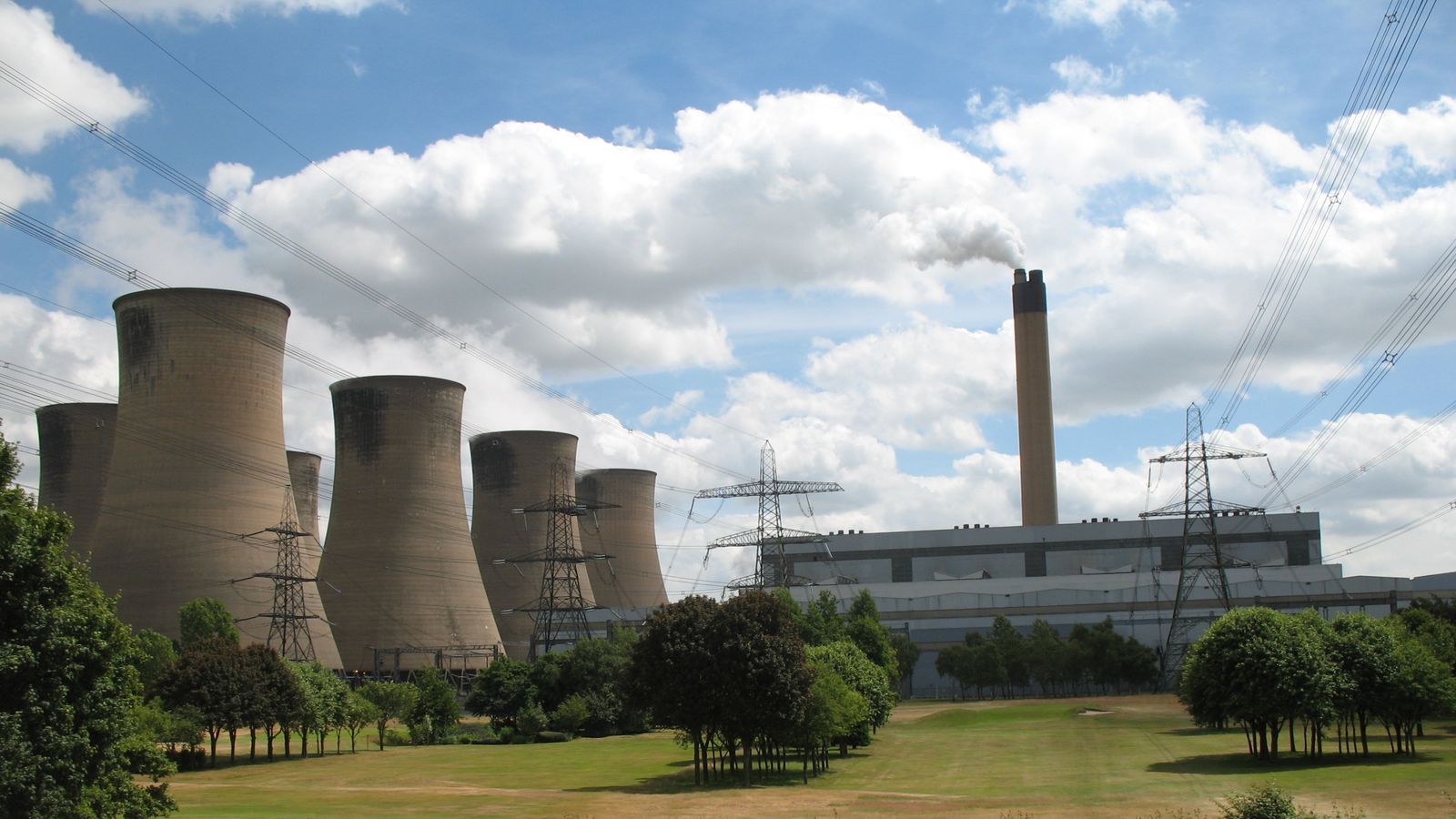 The first shut down is usually scheduled for late March/early April. That year the shut down of one of the four sets at Eggborough was brought forward because of a breakdown – the operator decided not to restart for a 2-3 week run but to commence the planned overhaul right away at the beginning of March. That is where I was sent on my first day.
In 1990 all UK power stations were still operated by the CEGB (Central Electricity Generating Board). The government had decided to privatise, dividing the enterprise into two businesses, National Power and Powergen. Neither privatised company wanted to takeover an enterprise that was not efficient, so the CEGB was investing heavily, on behalf of the government, ensuring the plant was in good condition, as well as installing modifications to make them less polluting.
This mostly concerned the boiler element of the set. All of the work had to be accomplished within 90 days. There was a penalty clause under which the contractor would have to compensate the operator for loss of revenue in respect of every day by which the restart was delayed. The role of the Planning Engineer was, therefore, an important one.
A power station boiler is the size of a city apartment block: 160 feet (50 metres) high, 80 feet x 40 feet in plan (25 x 12.5 metres). Access is provided at 40ft., 80ft. and 120ft. above ground. The inner chamber up to 80 ft. is constructed entirely from thick walled steel tubes containing water under pressure which is heated by the burning of powdered coal blasted in through 24 nozzles each about 4 feet in diameter.
One of the jobs being undertaken during this round of overhauls was to replace those nozzles with new ones designed to eliminate the production of nitrogen oxides (Nox), a principle cause of acid rain. The tubes in the front wall are shaped to surround the nozzles. Because the new nozzles were a different size to the original this whole wall had to be cut out and replaced.
Elsewhere the extent of erosion and corrosion on the other walls was measured. Where this was found to be excessive the defective sections of tube were cut out and replaced. All of these tubes are embedded in refractory cement, outside which is a sheet steel case, then a layer of insulation and an outer cladding of sheet aluminium, all of which has to be removed to provide full access to the tubes, and then replaced after all tube welding has been completed.
The nozzles are supported within a steel structure on the front of the boiler. The old nozzles have to be unbolted and lifted out and the new nozzles lifted in. A difficult operation that has to be co-ordinated with the removal and replacement of the matching tube wall.
At Eggborough that March it soon became apparent that this sequence of operations could not be completed within the permitted time. I was charged with the task of devising an alternative sequence that would meet the time constraint. This proved successful.
Meanwhile there was much other work taking place. In the upper section of the boiler chamber a series of "U" shaped tubes hang down, also filled with water under pressure which is heated by the hot gases rising out of the chamber. All of these required inspection, as a result of which many were shown to be in need of repair.
All of the tubes emanate from a series of large bore tubes, or headers, located above the chamber roof. These too are subjected to inspection and repair as required. All around the boiler valves are repaired or replaced. All of the large ducts conveying air and hot gases to and from the boiler are cleaned out and, where necessary, their walls repaired.
The coal pulverisers are stripped down and worn parts replaced. The turbines, too, are subjected to an overhaul. Progress on all these tasks has to be monitored to ensure that nothing prevents the re-firing of the furnace on the contract date. Additional labour is recruited if needed, and additional hours worked, more than the usual 60 hours per week.
The sub-contract manager's role is to liaise with the many specialist sub-contractors – scaffolders, refractory and insulation specialists, cleaning and inspection teams – to ensure that they have sufficient resources allocated when and where needed.
Both roles require the incumbents to spend large parts of the day in the thick of it, clambering about in confined and dirty spaces as well as attending meetings with contract supervisors and the client's team and, in the case of the Planning Engineer, time spent at the desk assessing where delays are occurring and coming up with possible strategies for correcting them when the original strategies for preventing them have plainly failed.
Meanwhile, there was an election due in May of 1987 for Cleethorpes Borough Council, in all probability followed soon after by a Genereal Election. We had found a replacement for Gavin, a young man who gave up his job in financial services and bought a house in the constituency in order to work full time, unpaid, for the party.
Now that I was technically out of work, I agreed to work alongside him doing all we could to promote the Party's message, finding and helping candidates for the Borough Council. Our constituency chair person, a lecturer at Leeds University, ran a series of training days at her home. A few days after I left my job a by-election was called for the port town of Immingham, which was a part of Cleethorpes Borough. We threw a good deal of hard work into that by-election, building a team around the candidate, and secured the seat.
For the first four months of 1987 we continued to work hard. As agent for about 40 candidates, including myself, it was my job to ensure that the rules about spending and publicity were properly adhered to. The spreadsheet programme proved very handy for the task, and the Word Processor ("Locoscript") was good for producing leaflets on the Amstrad's tiny 9pin dot matrix printer. We used it to produce masters which were then taken to an offset litho printing company to be reproduced.
The end result was that we increased our representation on the council, becoming the largest party. With support from the handful of Independent members we could have taken charge. The Independents, however, refused that support, allowing Conservative and Labour members combine to deny us the opportunity. They had all been in office for many years and, I suppose, were not prepared to have a bunch of new-comers with radical ideas break up their cosy arrangement.
I was now a member of two councils. Would there be a General Election? Given the success of Alliance candidates across the country, which matched similar results a year earlier, and several Parliamentary by-elections, I doubted it. I booked us a holiday for a week in Jersey to coincide with Freda's birthday at the beginning of the second week in June. Margaret Thatcher had other ideas, however, and called the election for the Thursday of the following week. We postponed the holiday until afterwards and redoubled our efforts at promoting our candidate.
Two issues dominated the election locally and I had some degree of involvement with both. A few years before there had been a proposal that low level Nuclear Waste could be stored on a site belonging to the national power generation company, CEGB. There was a campaign against the proposal locally. I was one of several hundred people who took part in a protest march and demonstration.
That scheme was quietly shelved but there were now rumours that the site might be used for the construction of a nuclear power station. On one of our trips to Germany I had taken a photograph of a nuclear power station we passed on the banks of the Rhine. Now, for one of two tabloid newspapers we produced during the election, I superimposed that photograph on one of the CEGB site. Remember, this was done with actual cut and paste – no photoshop or any of the other software we are used to today.
The other issue concerned education. Before I and my 3 Liberal colleagues were elected to the council, a plan had been devised by the council, and approved by the government's Department of Education, to reorganise the school system in Hull. Liberals in Hull had opposed it, arguing that staff and parents had not been adequately consulted. We wanted to have the plan re-examined but were unable to do so because the DoE would not agree to re-open it. When plans to reorganise Grimsby and Ceethorpes schools were under consideration we determined that there would be full consultation and local views would be listened to.
The background to this was two fold. Across most of England at that time – and still today to the best of my knowledge – schools are in two phases, primary for 5 to 11 year olds, and secondary for 11 to 16 and 18 year olds. When Humberside was created, by the merger of several other councils, the arrangements in Hull and in Grimsby (though not in Cleethorpes) consisted of infants for 5 to 8 year olds, junior, or middle, for 9 to 13 year olds, and senior for 13 to 16 & 18 year olds. The plan in both cases was to close all these schools and replace them with new primary and secondary schools and a sixth form college.
The other problem this plan was intended to solve was the reduction in school age population as the 60s "baby boom" worked its way through the system. The authority was under pressure from the government to remove so called "surplus places" in order to make the system more efficient, reducing the cost per pupil of running the service.
Following the extensive consultation process (a source of many of the additional meetings I was having to attend) the draft plan had been published. The only controversial aspect was a proposal to close the smallest of the secondary schools in Cleethorpes Borough. We opposed this although, hitherto, both Labour and Conservatives on the council were in favour. Labour selected, as their candidate for the election, the Chairman of the council. He did not take long to state that Labour would now oppose the plan to close that school.
Not withstanding a hard fought campaign, the conservative candidate was re-elected with roughly the same majority as previously, our candidate coming second. This pattern was followed across the country and the Thatcher government was returned with a marginally reduced majority in Parliament.