Home » Posts tagged 'Umkomaas'
Tag Archives:
Umkomaas
Continuing the occasional series in which I record significant events from my life. This installment takes up a couple of months before the previous one ended.
For the first couple of weeks after Freda and Ian arrived, in September 1973, they joined me in the hotel which I had been staying in since my arrival. Soon we were offered a furnished house. A traditional colonial style bungalow with a tin roof and veranda, this cottage had been vacated by the owner who had a modern bungalow built at the back. At first it seemed quite romantic with its early twentieth century furnishings and decor. That was until the night Freda went into the kitchen to brew a nightcap – and screamed.
Anyone who knows anything about cockroaches will know that they hate the light. They come out to play after dark. If their playground is suddenly illuminated, by someone switching on a light for example, they scuttle back to their hiding places – in this case under the kitchen cabinets. "I'm not staying here," was Freda's verdict. When I explained the situation to the HR department, who passed it on to the owner, that lady insisted there were no cockroaches in her house, implying that we were impugning her reputation by suggesting such a thing. In that case, why were there several cockroach traps under various pieces of furniture? We wondered.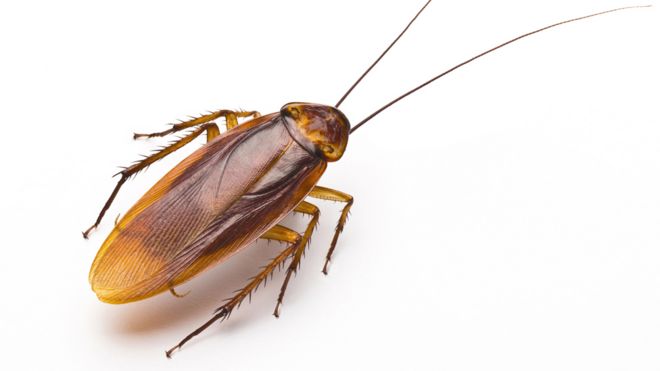 The company agreed to relocate us at the hotel for the time being. Construction, by a local developer, of a block of five terraced houses was almost complete and the company had taken a lease on two of them. One would be allocated to us. We were given an allowance to spend on furniture and textiles and told to visit an emporium in the inland town of Alexandria. "Ask for Smiley", we were told.
"Smiley" turned out to be a very accommodating Indian gentleman and we selected beds, a settee and chairs, curtains and bedding from his overflowing warehouse. The day we moved in, the developer pointed out that a pair of Minah birds had constructed a nest in the eves. Should he remove it? No, we said. It would be a shame to disturb the birds, at least until after their young had fledged. Also, it would be interesting for Ian to watch the birds.
We got into the habit of doing our weekly shop on a Saturday morning in a new mall in the larger town of Amanzimtoti a few miles away on the road to Durban. We had become used to hearing the birds chatter but one Saturday, as we were having lunch after our shopping trip, they seemed especially noisy. "Those birds are inside," Freda said.
"Don't be silly, how could they get in?" was my response.
"I left the bedroom window open."
With that she climbed the stairs – and, once again, screamed.
One of the birds had indeed come in through the window. Confused by the dressing table mirror, which was situated directly opposite the window, it had been trying to fly out of the reflected window. We succeeded in guiding it to the real window. There was now an awful mess to clear up.
All three of us developed itchy rashes which we put down to the change of climate. Several mornings we noticed accumulations of grit on the corner of the bath. Then one day I noticed that the 'grit' was moving. Once again we contacted the HR department and they sent along someone to have a look. "You have an infestation of bird lice," was the verdict. "The birds' nest has to be destroyed and the whole place fumigated."
With the birds removed and the place fumigated we settled into a routine. The house was on a hill overlooking the estuary and the Indian Ocean, a view we never tired of. Ian was, by now in school. At that time in South Africa children did not commence school until they reached 7, unlike the UK where 5 was the usual starting age. At 8, Ian was therefore 2 years ahead of most of the children his age in the school and entered the 4th year alongside 10 and 11 year olds. Indeed, some were older because a grade system was in use which meant that children who failed to make the grade at the end of any year were held back. Ian, I'm glad to say, had no trouble keeping up, except with regard to the compulsory second language, Afrikaans.
Our son also joined the cub scouts. This was run by the wife of the factory's Electrical Engineer, both of them German and both delightful to know. Over our time in South Africa we took part in various fund raising efforts for the Cubs and helped out at some events.
Before we knew, the spring of 1973 had metamorphosed into summer, the highlights of which were Christmas and New Year celebrations. These included an outdoor Christingle service on the village football ground and a factory Christmas party at which a group of the African labourers entertained us with their "Gumboot Dance", a traditional African stomping dance performed in Wellingon boots.
By then the house next door to us had been let to a young couple. The husband was a Welsh Chemical Engineer. Having begun his career in one of the steel mills in South Wales, he had emigrated to South Africa to work for the South African Steel Corporation (SASCOR). From there he had moved to SAICOR with his Dutch wife. For clarity, when I say "Dutch" I mean that she was born in Holland, not that she was a South African of Dutch descent. As a new employee he was provided with temporary accommodation whilst he awaited the construction of his own house in the company's staff village. This was an area of land owned by the company where employees could purchase a plot and have a house built to their own specification.
They brought with them twin boys about 2 years old, both as blond and pale skinned as their mother and each determined to play with the other's toy despite having his own identical copy! The poor woman was forever having to break up fights between them, or so it sometimes seemed. To be fair, they were a delightful family and we quite often "babysat" for each other.
The summer climate was extremely hot and humid – or seemed so to us being more used to the British climate. Days would usually begin very hot with clear skies and brilliant sunshine. In the afternoon clouds would appear and the atmosphere would become very oppressive. There were frequent thunder storms with torrential rain in the late afternoon and early evening. One consequence of this was that the ocean in the vicinity of the estuary became red with the soil being carried down river from cultivated lands in the hills above.
The other feature of the portion of ocean visible from our windows was a long line of white surf about a mile off-shore. This, we learned, was a rocky outcrop known as the Aliwal Shoal. One Sunday, having taken Ian to a scouts' event in a town a few miles down the coast, I noticed as we were traveling back without him, a tanker that appeared to be too close in. We stopped at a lay-by to take a closer look and it was obvious that the vessel was listing. Once back in Umkomaas we watched from our upstairs window as a couple of the ski boats operated by local fishermen journeyed to the stricken vessel to bring the crew to shore.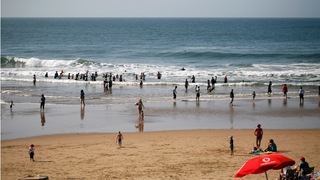 Ian was back in town in time to see the helicopter that landed to take the crew back to Durban. According to the newspaper the following day, the vessel was carrying molasses (raw sugar) from Mozambique. It had docked in Durban to refuel on the Saturday. It seems the Norwegian crew had a good night out in Durban and, after leaving the port on Sunday lunch time, had set a course due South before heading for their bunks, forgetting to allow for the Aliwal Shoal on their course.
Continuing the occasional series in which I record significant events from my life. This installment takes up where the previous one ended.
We had given up our membership of the co-ownership housing scheme and Freda moved back to her parents' home in Herefordshire. It was the long summer break from school so there was no disruption to Ian's education.
A week or so after I arrived in South Africa the small team was joined by an electrical engineer. A week after that he suffered a heart attack and was hospitalised in Durban. In the circumstances his wife was flown over to join us.
I had not previously met any of the team members. Walter, my fellow Mechanical Designer, although based in Coventry, had been engaged on another overseas project – this one in the Soviet Union. The team leader and the Electrical Engineer were both from the company's Derby facility, where the former held a senior management post. As a consequence his role as our team leader was part-time and he returned to the UK after a few weeks, to pay the occasional flying visit every few months.
Before he left, he was determined to demonstrate his driving prowess. Back in the UK Barry had built, and raced, a Formula Ford racing car. The team had been allocated 2 cars – necessary for travel from Umkomaas village to the mill and for personal transport at weekends. On his last weekend Barry decided we should have a group outing to Zululand, an area to the North of Durban characterised by spectacular mountain roads and beautiful scenery. The roads were, of course, unmettalled.
Not surprisingly, I can't recall precisely who travelled with whom. I'm certain that Peter, the electrical engineer and his wife, Vi, were passengers in Barry's pale blue Peugeot 504. And, of course, Freda and Ian were with me in a dark green Datsun (Nissan) 260 C. I am less certain of Walter's position – if he was in our car, why was he not driving?
Walter was a widower. Whilst he was in the USSR his daughter was cared for by his mother but he was determined to have her with him in South Africa. About six weeks after Walter and I arrived in South Africa, Walter's mother delivered the daughter to Freda in Hereford, from where she, Freda and Ian were picked up by a company driver and taken to Heathrow. Walter and I were permitted to fly from Durban to Johannesberg in order to meet them and accompany them on the final leg of their long journey.
As for the weekend motoring tour of Zululand; I think Barry thought he was taking part in the African Safari Rally. I do recall Vi telling us that he scared her witless whilst pointing out various interesting features of the landscape with his eyes averted from sharp bends above sheer precipices ahead. As for me, I did my best to keep up as we raced along rutted dirt roads in the cloud of dust thrown up by Barry's car.
The mill is located – yes, it is still operating all these years later, though now owned by SAPPI, the world's largest producer of dissolving wood pulp as well as paper and board – a few miles upstream from the point at which the Umkomaas River enters the Indian Ocean. Originally a project created jointly by the South African government, an Italian fibre producer called Snia Viscosa, and Courtaulds, the plant was constructed by a team from Italy, many of whom had remained as the nucleus of the Engineering management and development team.
The basic idea was to establish plantations of fast growing eucalyptus which would be coppiced to provide the feedstock for the mill. The resultant pulp would be exported to Italy and the UK to be converted into viscose fibre by the two specialist corporations. Whilst Courtaulds had succeeded in adapting their process – which originally used pulp from Scandinavian soft woods – Snia had not, and sold their share in the mill to Courtaulds.
The project to modernise the raw material handling and storage for the mill had begun in the small in-house design office. Realising they lacked sufficient resources to handle such a large undertaking, they had turned to Courtaulds Engineering Limited to complete the job.
The production of pulp from timber is a simple enough process. Apart from wood, the only ingredients are Sulphur and Limestone, which are used to create an acid in which the wood, having been reduced to small chips, is dissolved to separate the celulose from the resin that holds it together in its natural state. The mill in Umkomaas also generated its own steam and electricity. A new coal fired boiler was being installed by Babcock and Wilcox when we arrived.
My first task was to complete the crane and conveyor system for transferring coal from the storage area to the boiler. Design for this had been partially completed, and construction of the reinforced concrete elements begun, already. I had to design the hoppers through which coal would be dropped onto a conveyor, evaluate tenders for their manufacture, and supervise the installation and commissioning.
Walter was undertaking a similar exercise for the Limestone and Sulphur handling facilities. The Electrical Engineer took care of the selection and installation of electric motors and wiring for all three. These were comparatively simple tasks and were completed by Christmas. The real 'meat' of the project concerned the complete reorganisation of the timber handling facility which would occupy us for the whole of 1974.
I'll reveal more about this part of the project, my role, and our experience of living on the South African coast, in the next installment.